All Faiths Food Bank Food Distribution
First Presbyterian Church is involved in an exciting partnership with All Faiths Food Bank to be an emergency food distribution point. All Faiths will deliver items to FPC for our distribution. We will use the parking lot outside Fellowship Hall. The food distribution will be by drive-through with our FPC volunteers loading cars as they circle in the parking lot during the allotted time.
Dave Householder, Co-moderator of the Mission and Justice Committee, is integrally involved arranging the plans for this partnership. Bob Kirkpatrick, also Co-moderator of the Committee, is coordinating the FPC volunteers. Have fun and fellowship while serving the community!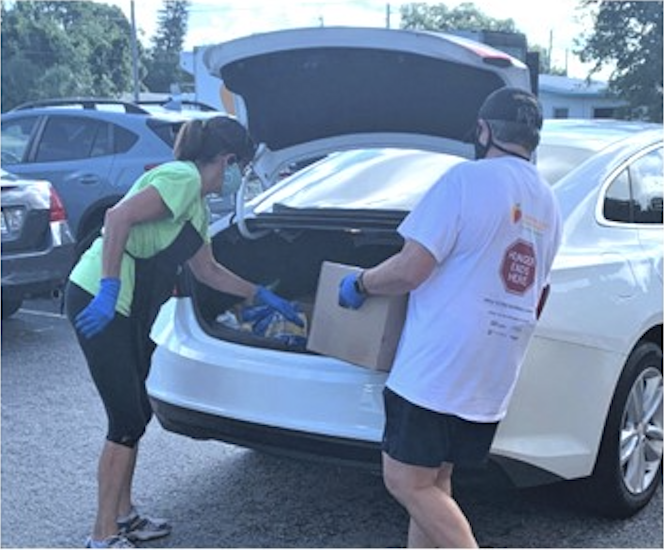 Come to help staff our the ALL FAITHS FOOD BANK EMERGENCY FOOD DISTRIBUTION SITE
at First Presbyterian Church, Sarasota
8 to 10 volunteers are needed for each Thursday. Task options include sorting and distributing food, setting up, cleaning up and directing traffic.
Every Thursday: from 10am until 11:30am
You can volunteer every week, once or twice a month, or whenever you are able.
Invite friends or coworkers to join you.
FOR MORE INFORMATION contact:  Bob Kirkpatrick (941) 761-2455 or Dave Householder (724) 462-4235
We are thankful for those who have made it possible for FPC to provide a food distribution center:
All who led our successful Capital Campaign: Scott Carter and Carol Papa, Co-chairs: George Chorba, Beth Byron-Reasoner, Adam Martin, Rachel Martin, Charlie Stottlemyer, and Cord Van Nostrand; the Elders serving at the time on Session and the Property Ministry Team; and our congregation for generously supporting the Campaign.
Please consider becoming a part of this exciting new ministry to our community!